While market research typically occurs before the introduction of a product, Unilever chose to explore optimization opportunities for an existing concept. Bamboo Brands conducted a Post Launch Evaluator for Knorr's vegetable pasta. Read about the collaboration and research results.
Last year, Unilever launched Knorr's vegetable pastas, colorful pastas enriched with 30% vegetables. Unilever was curious about how the concept was received by consumers, aiming to discover improvement opportunities for the future. To gain insights, Bamboo Brands conducted a Post Launch Evaluator.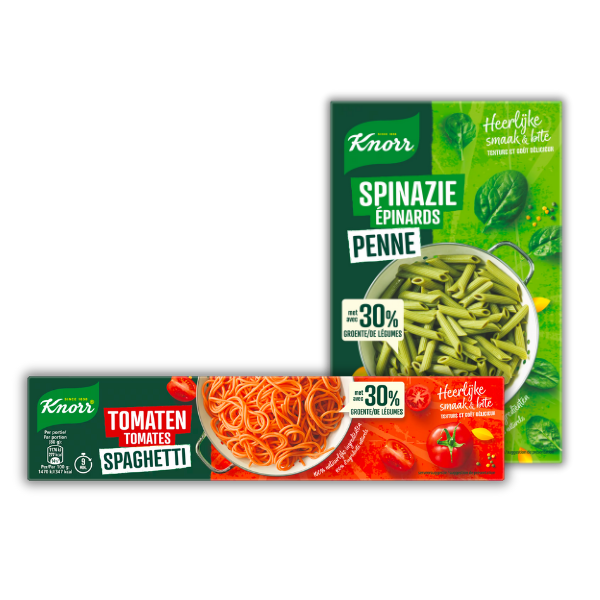 Research Questions
For this Post Launch Evaluator, a qualitative study was composed, focusing on the following main questions:
What is consumer behavior in the pasta aisle like?
(A-brand/private label, whole wheat/non-whole wheat)
Why do consumers choose or not choose Knorr vegetable pastas?

What associations do Knorr vegetable pastas evoke?

To what extent do packaging design and claims appeal to consumers?

To what extent does price play a role in purchasing?
On the shop floor and at home
The research consisted of two parts: interviews on the shop floor and an in-home test. Shoppers were observed and questioned at the shelf, after which they were given a sample to use at home. Afterwards, they were interviewed by phone about their experiences.
What makes this method unique is that it provides insight into expectations versus actual user experience. Since the product was already on the shelf, it was also possible to observe shopper behavior in the category. Only pasta shoppers participated in this research.
Careful store selection
In total, 70 shoppers were interviewed over 3 days. 61 shoppers participated in the in-home test.
Tamara Vieveen (CMI Lead Nutrition North Europe & Plant-based Europe at Unilever) shares her experiences:
"We had specific retail formulas and regions in mind. Bamboo Brands took our wishes into account and quickly came up with a careful selection of stores. This highlights the strength of Bamboo Brands. They have a large retail network and are in contact with local entrepreneurs. They also actively think along and respond quickly, which resulted in a pleasant workflow."
Applicable insights
The Post Launch Evaluator provided valuable insights into the factors that attract or deter consumers from Knorr vegetable pastas.
Tamara Vieveen says,
"The goal of the research was to get a clear picture of consumer response to the concept, and that succeeded! Moreover, the results are practically applicable. We have already taken internal steps to further optimize the concept based on these insights."
More information
The results of the research belong to our client. Would you like to know more about this type of research? Read more about the Post Launch Evaluator. Or contact Chantal Risseeuw, Chief Commercial Officer at Bamboo Brands, via chantal@bamboobrands.com.